General info
What is KAEC ?
You might have heard your friends and colleagues mention KAEC but what is it really? Let's begin with a very quick summary ;
Stands for

King Abdullah Economic City

.
A complete set of city developed approximately 100 km north of Jeddah on the Red Sea coast focused on high-growth non-oil industries.
One of the

MEGA projects

 in Saudi Arabia known as

VISION 2030

along with NEOM, Red Sea project, Al-Faisaliah city, Jazan city.

Announced in 2005

by the previous king of Saudi Arabia, estimated to

not be fully completed until 2035.

$ 27 billion

development with total area of 181 km2 which is in fact 

larger than Washington, D.C.

 (177 km2) ! 
Currently in late 2018 the whole project is 33 km2 developed, 24 km2 under development, 29 km2 under planning and design. The rest of the area is yet to be planned.
Boasts

the second biggest port in KSA

by capacity as of 2018 and

a massive industrial area

attracting world class companies.
*Source; KAEC Invester Presentation Q3 2018,  KAEC annual report 2017 ,Business Insider interview on the group CEO in 2016
What should I do to enter?
Pre-registration is recommended through the registration page on KAEC official page 
Prepare 

car registration, driving license and insurance certificate

upon registration

. (Image files only – No PDF files for example.)
Your car's license plate will be scanned at the e-gate for automatic access. Otherwise present the QR code sent to your email upon registering online.
You can also enter without pre-registration through non-register car lanes at the gate, but be aware that it might take time and is a manual process.
City map and where to head to?
More detailed map is available here on the KAEC official page but you can have a quick glance at the simple version below.At the moment within KAEC, most people should set their destination to "Bay La Sun district" for a leisure visit. This is relatively the most developed area.
After entering KAEC through the Hijaz Gate on the orange road as indicated on the map above, go along the road until you hit the coastal road to take a left, then take a right to access Bay La Sun district where most of the leisure facilities are found at the moment, including Bay La Sun Hotel. On the other hand, taking a right turn at the coastal road as indicated yellow on the map will first take you to Al Murooj district which includes the royal green golf court and other residential areas as you continue on. This is followed by the King Abdullah Port at the very north and the industrial valley across the east side.
Haramain rail station – 450 km high speed train  – 25 mins to new Jeddah International Airport and 35 minutes to downtown Jeddah. Business & residential area Hijaz gate is under planning and designed around it.
Bay La Sun district
Bay La Sun Hotel & Marina
Hotel
Driving down the road named Hijaz Boulevard in the Bay La Sun district, you will quickly spot an elegant Bay La Sun hotel standing on your left side. The parking is accessible for visitors as well and it is a good idea to park your car at the hotel's underground parking for easier access to the restaurants. I was told by the hotel receptionist that visitors can also enjoy bowling at the hotel.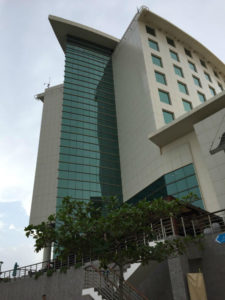 Restaurants
Apart from the hotel restaurants "Season restaurant" and "Veranda", "Steakhouse" was the only choice available while "Modo" next to it was still under preparation when we visited in December 2018.
Boat trip
Just outside the hotel beside the restaurants, boat trips are available at 200 SAR for 30 mins with maximum capacity of 9 people per boat.
Juman park
Over 70,000 m2 of family friendly park. Parking to be found right off the road.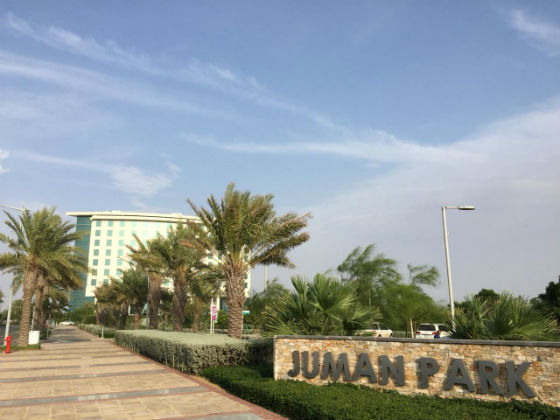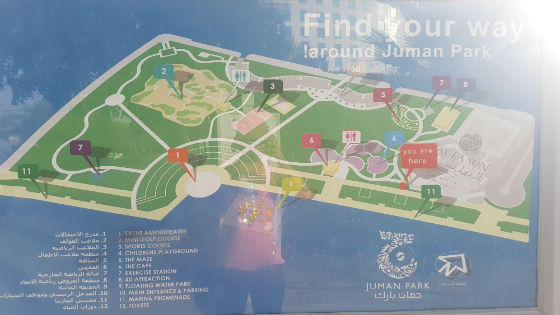 (The map above physically placed next to the playground can be misguided when it comes to finding the floating aqua park. It is indicated on the map near to the water splash pad but you won't see anything there! It is instead located a few minutes drive across the canal.)
Children's playground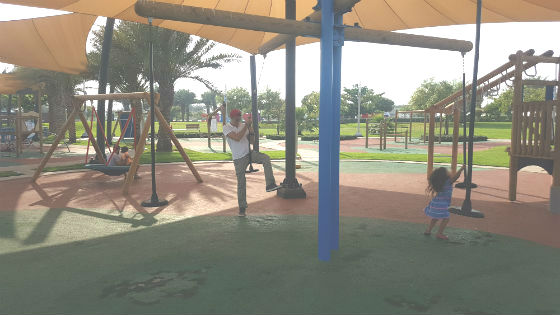 Kids spent some good an hour or more on the wooden based athletic play gyms and unique swings. I also enjoyed myself A LOT on this seesaw inspired swings.
Water splash pad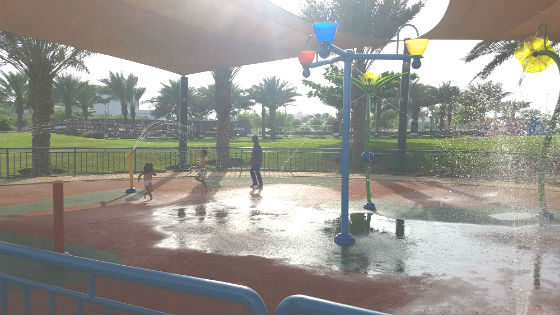 If you know kids you know they will have a blast here! Right beside the children's playground. Water pouring down from the buckets and splashing from the giant flowers and bazookas. Enclosed within a fence. 20 SAR per child for 30 mins. Open all week at 4 pm – 11 pm.
I Bike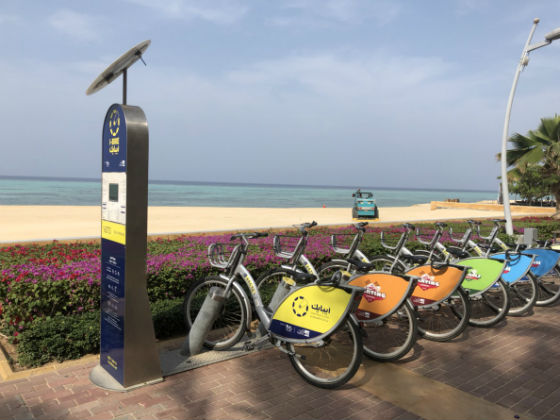 We did not try it out this time but were told by staff that online registration is needed and is payable only by credit cards. 20 SAR for 30 mins. Registration is something you can do on spot using the machine standing next to the bikes and your phone with wifi. (to be confirmed when we try them out next time) There are several stations including in the Juman park at the boulevard, the golf court and others. Only adult sizes are available so it might be a good idea to bring your own bikes for kids so you can enjoy cycling together. We did bring a balance bike for our youngest and she had a great time zooming around on it everywhere since the roads are nice and flat. Operational timings to be confirmed.
Mini gulf
30 SAR for 1 round.  Open all week at 4 pm – 11 pm. Available for all ages.
4D attractions
Not operational yet.
Juman Karting
4pm – 11pm (When we were there we were told 4:30 to open due to prayer time)
Price for 10 mins ride ;
Adults aged 18 and above  – 75 SAR for weekends ( thurs – sat ) / 50 SAR for weekdays ( mon- wed)

Ages 10 – 18 ( must be above 130cm ) – 50 SAR for weekends ( thurs – sat ) / 35 SAR for weekdays ( mon- wed)
For the latest price information please check  KAEC Juman Karting Website
Bay X exhibition center
Independent exhibition center offering 2,800 m of hall space.
Coast Line area
Drive all the way down to the sea you will find a parking right between the grass park and the boulevard. If that one is full, there are some other parking areas along the boulevard as well.
Boulevard
Nice casual street alongside the beach line with familiar cafes and restaurants. Absolutely lovely to sit at one of the outside seating area in the evenings. When you are there with small kids, make sure to sit near the playground. Available cafes and restaurants according to their map;
Basking robins
Bert's cafe
Piatto
Fire Grill
Uptown "Sur Mer"
Modo
Paninos
Starbucks
I didn't confirm if all of them have opened while we were there but at least I can say we had delicious fruity gelato at Piatto and Mexican grill sandwich from Paninos.
Grass field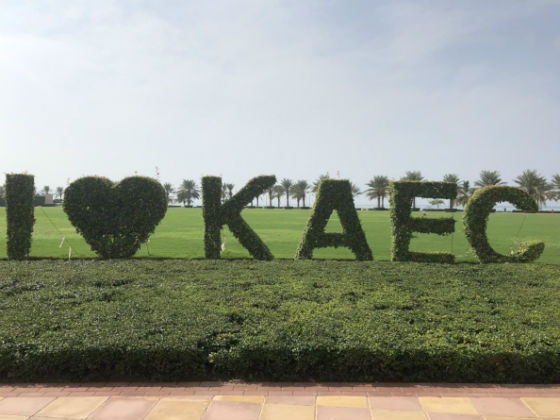 Just beside the boulevard there is this huge open space with grass. Do not forget to bring your own frisbee / football / kite !
Beach walk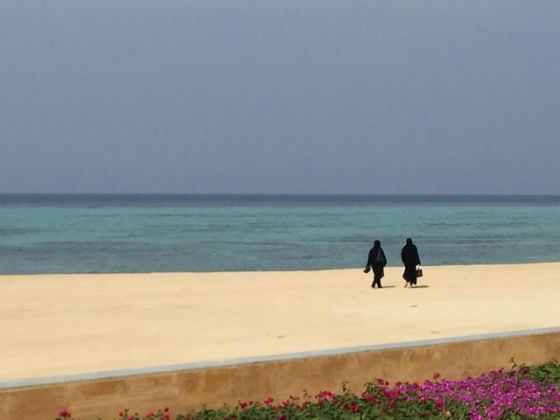 Alongside the boulevard and the grass filed is the beach stretched out all the way. We only spotted one group of family whose children were actually swimming but I am not sure if many people would go in the water. However we had a great time hunting for sea creatures – one sting ray and a crab were found in our 30 mins walk.
Floating aqua park
The peak of our trip this time was definitely this exciting floating aqua park. Go across the canal from the Juman park and drive down until you see Sharbatly mosque on your left then take a right.
60 SAR per person for 1 hour in the weekend and 45 SAR during the weekdays

For 7 years old and above and those above 120 cm

1 PM – 7 PM

Fri and Sat at 10am-1pm ladies only (plus boys up to 10 y/o)
Life jackets must be worn for all ages
Fun to race around the course against each other. Who will be the fastest and who will not even make it?
Al Murooj area
Royal Greens golf court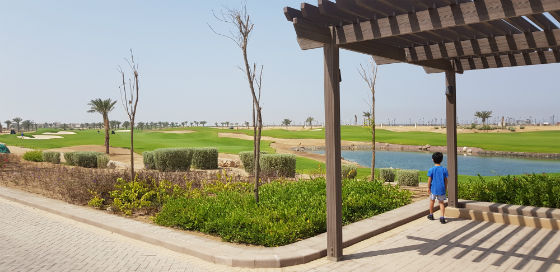 World-class golf course Royal Greens selected for PGA European Tour Championship 2019
Esmeralda sports&leisure complex
A family fitness club including gym, bowling and a water park! However not operational yet.
Restaurants
We sat outside seating area of Le Brito's looking out the golf court just in front of us. The photos are just a few snaps of some of the dishes we had there. I got the impression that it is the only restaurant operational in this area. (Did I see a cafe upstairs..? To be checked.)
Others
Residential areas
There are many communities developed or under development and it might be interesting to see the progress by driving through those areas. Current communities includes;
Al-Talah Gardens – A series of mid-income housing for young families
Bay La Sun – An urban district
Al-Waha – Award winning mid-income district
Al-Shurooq,- Suitable for first time home owners
AL-Murooj – Most exclusive, upmarket ( golf or beachfront options)
Miram Al-Hijaz – A mid-income district close to the rail station
The village- Located within the industrial village
Event information
As everything else in KSA, information about events seem to be announced most actively on Instagram or twitter. They have a record of having some concerts so keep your eyes open.
Side note – I was positively surprised seeing not only an operational recycling infrastructure but also a self-serve gas station! I spotted one just near the main gate.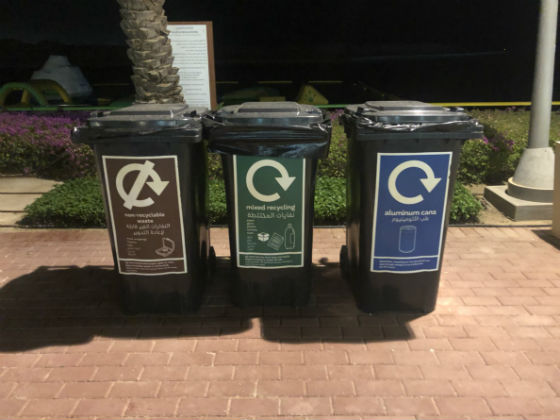 What's coming up?
According to the investors presentation Q3 2018, they are planning on many more leisure facilities. What we can enjoy right now as of 2019 January is just a fraction of their master plan. Projects under development announced in the said presentation includes;
Lagoona
Fully integrated massive leisure entertainment site which is planned to include;
Children's theme park
Water park
Ecology park
Outlet mall
Sports park
Safari
Thrill park
Motor park
Beach front
The views
It has been just Bay La Sun hotel for some time now but looks like a new hotel "The views" is opening in the very near future.
Other upcoming projects
• Souq
• Malls
• Islamic exhibition center
• Tethered balloon
• Desert camps
• Culinary and aviation academy
There are some missing information that needs to be confirmed, and it sure can have some more pictures. I have only been to KAEC a few times myself but there is just so much coming up that I will definitely be going back to check them all out until I can re-name this post as "ALL you can do in KAEC". Cheers!