Not in Jeddah though…But one of the closest destinations from Jeddah – Uludag in Bursa province, Turkey. We just came back from our epic Uludag ski & snowboard trip with our kids and I am going to quickly put together the information we learned there that might become useful for those who are planning on going there, especially for the first time. 
We went there in the end of February and the amount of snow was totally sufficient, as the resort sits above 2,000m. The first day was a little windy and snowy, making it difficult without goggles but the second & the third day we were super lucky to have such sunny and perfect weather. 
How to get there from Jeddah?
Check out this clip first 🙂 
Jeddah – Instanbul Flights
We took Saudia airline departing at about 10 AM from Jeddah to Istanbul, and about 3:30 PM from Istanbul to Jeddah both of which were great timing for travelling during the daytime. The flight was about 3 hours and 50 mins.Turkish airline was more expensive and its timing was inconvenient as well.
Upon choosing flights, bear in mind that there are two different airports serving international flights in Istanbul – We landed on the new istanbul airport which is further to the west side compared to Sabiha Gokcen (SAW) airport. Landing on Sabiha Gokcen airport saves you some time not having to cross that traffic-jam-prone bridge connecting the Europe side and Asian side. However, the flights are more limited going to Sabiha Gokcen from Jeddah and there were only business class seats available at the time of our research. 
Istanbul – Uludag transportation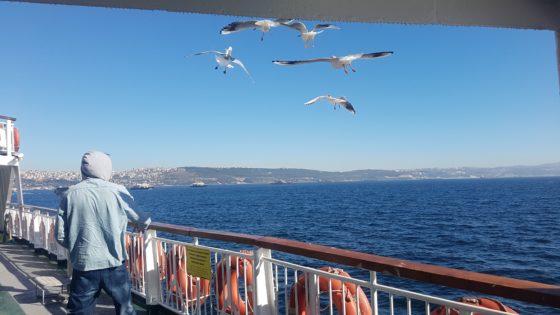 My First Choice
Take a taxi or mini-bus all the way from the airport to the resort hotel of your choice. Get picked up right at the airport and dropped off at the door step of the hotel. We took a 12 seater mini-bus with a capacity of storing about 15 suitcases in the boot. It took us about 4 hours (have 5 hours in your mind to be on the safe side) including the 30 minis ferry ride. The ferry was equipped with a little kiosk and a play area, and it actually added the trip some extra excitement. We also had fun feeding seagulls bread crumbs during the ride.
Around the last 20 mins was a mountain zigzag road and if you really want to avoid it due to car sickness, you can opt for the cable car to go up the mountain. However, we were all so glad that we didn't have to change our transportation, not having to get in and out with the small kids and luggage in that freezing temperature after a long trip. 
My Second Choice
Take the same taxi or mini-bus as mentioned in the first choice, but to Bursa city only, instead, take the cable car from the city to Uludag (it's locally called Teleferik). It takes you up to the mountain in 20 mins and the station is 5 mins walk from the hotel (Karinna hotel). If you take this cable car during the daytime I'm sure you will enjoy spectacular view. Operational from 8 AM to  8 PM. A receptionist at our hotel told me it's about 60 lira per person (around 100 for a round trip) and it's free for 6 years old and under. 
Bursa Teleferik Official Website
My Third Choice
You could take a domestic flight to Bursa city from Istanbul if you don't mind all the changes in transportation. You'd have to take a taxi from the airport to the cable car or all the way to the hotel. Might be a good option if you want to explore the city as well. Bursa is a fairly large city with the population of nearly 3 million and was the first capital of the Ottoman empire. 
Accommodation options
Options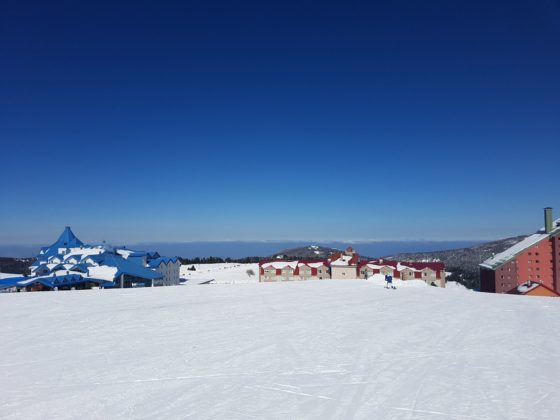 The four high rated hotels in Uludag stand next to each other right on a slope. The one on the right in the picture above is Karinna hotel where we stayed this time, the blue one on the left is Bof hotel and the middle one should be Kaya hotel. And further to the left side of Bof stands Agaoglu My resort. Moreover, there are several more hotels with lower rates on the east side of the mountain.
As the mountain and the resort belongs to Bursa city, you can also choose to stay in the city of Bursa with many choices of hotels and apartments. Staying at a hotel in the city of Bursa is cheaper, but you need to have transportation to the resort which can take up to 1 hour or use the telefrik daily.
Karinna Hotel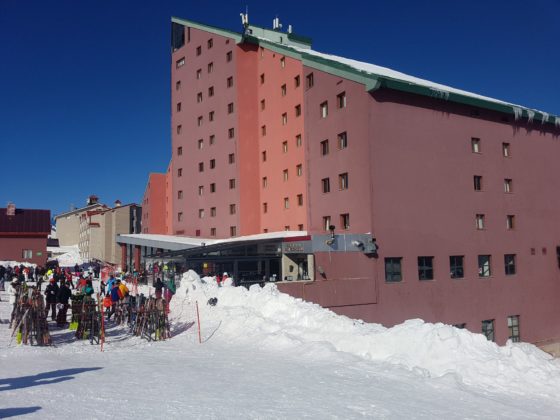 Excellent hotel standing right on a slope equipped with a spa & swimming pool, a ski & snowboard rental shop, a ski & snow board school, a shop for ski & snow board gears, a kids club and more. We were given a room facing the slopes and we could see first thing in the morning some staff getting the lifts ready, people having fun in the night dancing near the semi-outdoor bar and fireworks right on the slopes!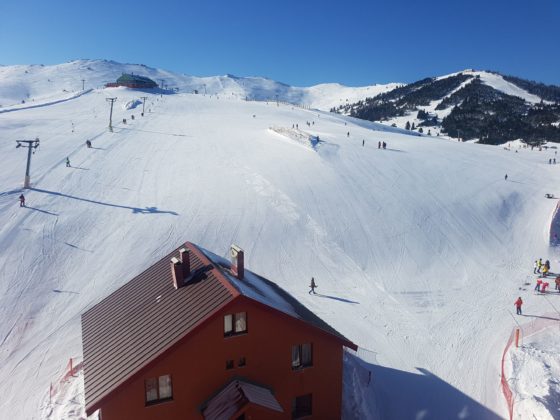 Kids Club at Karinna Hotel
Kids club operates at 9:30-13:00 / 14:30 – 18:00 / 21:00 – 22:00 and there is a staff taking notes of who gets in and out. Our kids came back with some arts & crafts they made with the help of a staff there, while we adults enjoyed an hour of ski on our own taking the lifts all the way to the top.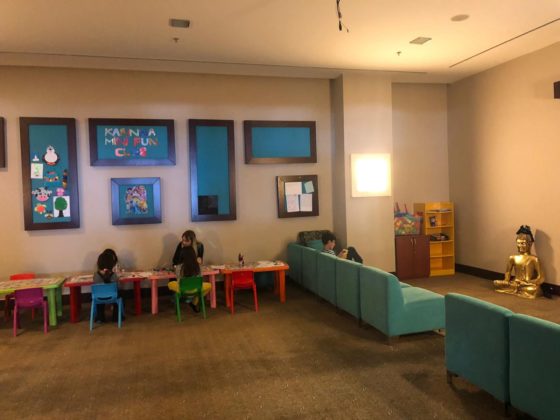 Food at Karina Hotel
We fully enjoyed food at the restaurant offering wide base selection with some changes in it every time. They even provided tea time between lunch and dinner every day at the lobby where our group sat together in a cozy corner surrounding the wooden fire.  
Bookings 
We had booked with Karinna hotel through booking.com in advance with one month cancellation policy and stuck with the deal. However, my friend found cheaper deal at around the one month mark and managed to switch to it from the previous booking. So better to keep your eye on the price changes even after your made a booking.
Karinna Hotel Official Website
Bof hotel was recommended by a friend but was just simply a little more expensive than Karinna hotel. 
Another recommendation we received was an international hotel called Grand Yazici Hotel, for good English. (Located in different zone as where we stayed)
Grand Yazici Hotel Official Website
Ski Slopes & Lift Pass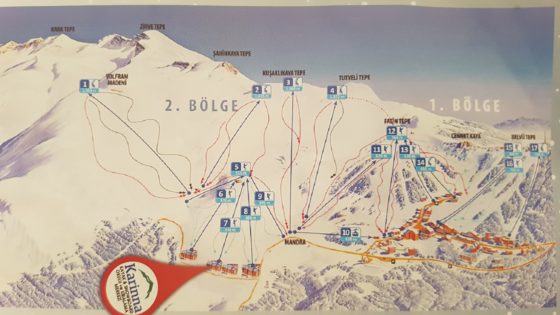 For beginners, the slopes on the bottom are perfect for practice.  The pictures posted across this article are from the slopes near Karinna hotel and around lift no.1 on the west side. We didn't get to explore the east side this time but it seemed wide enough to keep you entertained with different courses and views for some days.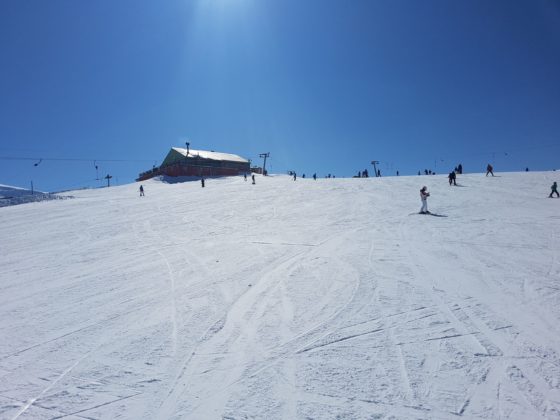 The picture above is the slope just in front of Karina hotel. Very wide and not steep, perfect for beginners. The only problem is that the lifts at the bottom area are all T-bar lifts (no proper seats, skis must be on the ground all the way), and it can be a little tricky to ride on especially with a child next to you. It's of no problems at all if you are on your own but it breaks the balance when you are on it with a child different in weight and height as you. Quite challenging for snowboarders as well.
Lift Pass Fees
Lift pass is available at the booth by the lifts. Here is the price:
25 lira for a ride 
100 lira for 4 hours 
165 lira for a day
220 lira for 1.5 days
285 lira for 2 days
330 lira for 2.5 days
385 lira for 3 days
440 lira for 4 days
495 lira for 5 days
Ski Gear Rentals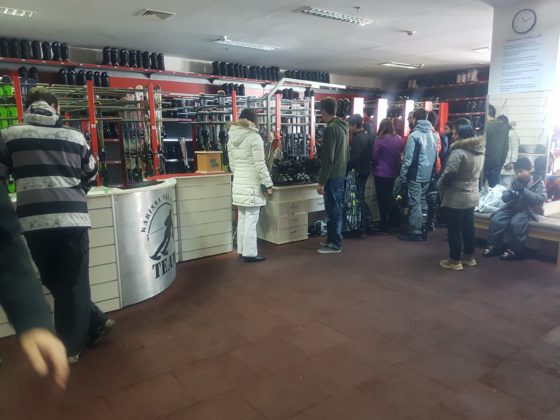 Uludag seems to be the destination for local ski school programs and it can get very busy with big groups. When they are there in the rental shop, the chance is that you end up waiting there for your turn for a long time – it's best to go as early as possible to avoid the crowd. Bear in mind that English is quite limited. 
The price of ski / snowboard set (boots and skis/snowboard) is 110 lira per day and 90 lira for full wear (up and down). 50 lira for helmets if needed. (At Karinna hotel rental shop in 2019/2020)
Ski School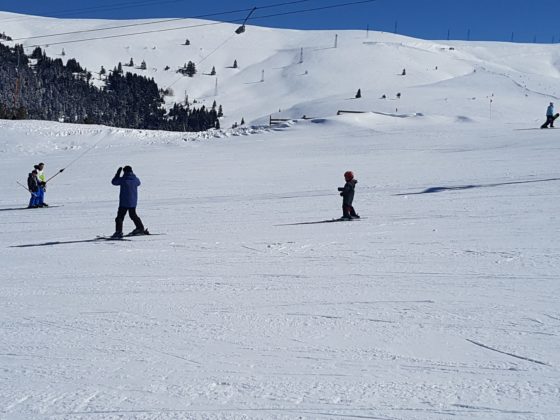 For our 5 year old and 8 year old who were first time skiers, we took one instructor for them together for Day 1. After a very quick practice at the bottom of the slope (maybe for 5 mins), the instructor first took our 5 year old straight to the lift, came back then took our 8 year old. While one was up with the instructor, the other one was practicing at the bottom (It was possible because I was there too). After all, they had 2 turns each of practice on the slope within 50 mins. For Day 2, we decided to take one instructor each for the full 50 mins letting them practice on the slope all the way. 
I would say it's probably best to take one instructor each for the very beginners and group lessons for the next step. I must say the instructors English is almost non-existent. However, at least out kids didn't bother the language barrier and actually liked them – it's all about watching and copying what your instructor does after all.  The instructors for our kids were grandpa-aged men, and they were playful with the kids. My friend requested a female instructor for her 4 year old daughter and she was a cheerful young lady. 
Ski School Fees
Here is the price structure for Karinna hotel ski & snowboard school (2019 / 2020)
1 person per instructor for 50 mins : 250 lira
2 persons per instructor  for 50 mins : 320 lira
3 persons per instructor for 50 mins  : 420 lira
4 persons per instructor  for 50 mins : 480 lira
Joining a group session with others for 50 mins : 100 lira
If language barrier is a problem, there is another ski school outside of the hotel whose instructors speak English well. The name is Kar Dunyasi.
Sledging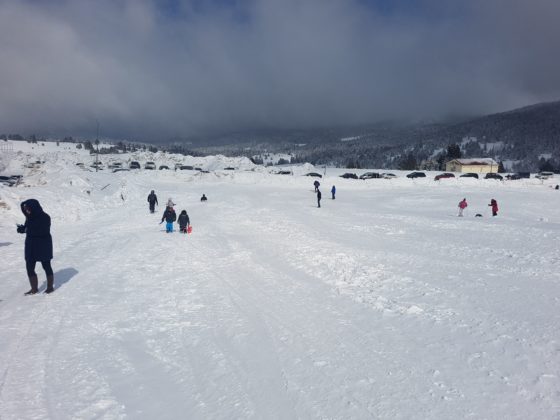 On the side, our kids thoroughly enjoyed the sledges as well. This slope in the picture above is just beside the hotel and a little away from the lift area, perfect for sledging. We didn't prepare any sledge with us from home so had to buy ones from the shop in the hotel. Bring ones if you happen to have some. 
Items to bring 
Check some items you should bring from home if possible, as its not included in rental ski wears: 
Ski gloves 
Goggles 
Cap
Scarves
Face cover if needed
Winter jackets can be used as ski wear, rent only the trousers (70 lira)
Backpack
Sledges for kids
Swimming suites (there can be a swimming pool in the hotel)
They are all available in the hotel shop in case you forgot to bring along. 
Overall, we had so much fun in this Uludag adventure and made unforgettable memories together!