Are you looking for an ultimate bento box that meets all your criteria of practicality? Or, beautiful Japanese home-decor for your home? Or, perhaps you are interested in the cosmetics brands in Japan for its qualities? Or, of course items of your favorite Japanese anime characters? The Japan-exclusive product list goes on..And it's time to get them over here in Saudi Arabia with ease, for almost any item in the market!
In this post I am going to demonstrate 3 different ways to ship products in Japan over to Saudi Arabia. Might be applicable to its Middle Eastern neighboring countries as well.
Shipping from Amazon Global Japan
Amazon Japan is one of the two top E-commerce platforms in Japan competing against a domestic company called Rakuten for its share in the local E-Com market. Although Rakuten have been making their way to the global market in the past years, it is still not fully available to the ME countries (only Turkey, Qatar, Cyprus as of 2020). On the other hand, Amazon offers overseas shipments to much wider areas of the world (details here).
How to Order on Amazon Japan for Overseas Shipment
Not all products are eligible for overseas shipment. Once signed-in to Amazon Global Japan, make sure to click the "amazon global eligible" button on the left bar to screen out the ineligible ones. Also, it helps to know that there are different types of handling forms in Amazon which are divided into:
Sold and shipped by Amazon (labeled as "Prime" in each product details)
Sold by "XXX"(seller name) and fulfilled by Amazon (shipment is fully handled by Amazon)
Sold and shipped by "XXX"(seller name)
In case of No.1 and No.2 it almost poses no difference on the buyer but in the case of No.3 (although it's a minor case), the regular Amazon shipment method will not apply. Individual sellers will ship the products through their own chosen methods and it could even be shipped from outside of Japan.
For step by step guide of how to order, check the official page here : Amazon.jp How to Ship Internationally
Pros & Cons of Shipping via Amazon Japan
Pros of Shipping via Amazon Japan
Competitive product pricing

compared to Rakuten (Rakuten offers extensive point system instead)

Competitive shipping rates

by alliance with DHL. Below is the rates to KSA  (details here).


| Product Category | Per Shipment | Per Item |
| --- | --- | --- |
| Books, VHS videotapes | 1,100 JPY | 450 JPY |
| CDs, DVDs, Blu-ray, Music Cassettes, Vinyl | 1,100 JPY | 400 JPY |
| Software | 1,100 JPY | 450 JPY |
| Watches, Jewelry | 1,100 JPY | 700 JPY |
| Other | 1,100 JPY | 1,400 JPY/kg |

Super fast delivery of 3-5 days

(details here) –  proven by my friends' actual experience to KSA!

Prepaid import fees

system, unique to Amazon – Customs duties, taxes and fees ("Import Fees") are estimated and payable at the time of checkout. No surprise upon receiving the package. You'll never pay more than the actual import fees and if it turns out less than what you paid to Amazon, they will reimburse the balance.  (details here)

Established trouble management and return policy

through your account page (details here)

Exempt of consumption tax

towards Japan (10% as of 2020). Consider all products are 10 % off the displayed amount!
Cons of Shipping via Amazon Japan
In some cases, especially with "international E-packet" of below 2 kg, Japan Post could ship cheaper.
Amazon international shipping is not applicable for food & beverages (very very limited).
Some products require a minimum quantity purchased for international shipping.
Any Discount Campaign for International Shipping?
Unfortunately, free international shipping campaign is still not very frequent in Amazon Japan and is most of the times limited to Asian countries or U.S. as its destinations. However, as you know, the E-Com industry is very competitive and they are constantly working on improving the service and expanding the territory. We will keep an eye on it and let you know if they throw one for us in the Middle East!
What is Amazon Global Selling?
This also does not apply to Saudi Arabia yet so go ahead and skip it..but did you know Japan-based Amazon sellers can now sell their products directly on other Amazon marketplaces? It means that products you see on Amazon Japan might be available on your local Amazon too. So far, it's among the limited countries (US / Canada / Mexico / UK / France / Italy / Spain / China / India) but maybe soon in the Middle East too!?
Shipping through Forwarding Companies
Another way is to buy the product and have it first delivered to a forwarding company who will then ship the product to your country. In this way you can basically buy anything in the market, even the ones stating "not for international shipping". As one of the forwarding companies (Tenso Japan) illustrates on their website in below image, you will first send the product to their warehouse in Japan by typing in their address upon purchase.

Total Cost for Shipping through Forwarding Companies
Below is what you will pay at each step. What you pay more than with Amazon Japan are the domestic delivery cost and service fees (handling fees). Also, note that 10% consumption tax is levied when using forwarding companies. A little extra cost but you get to explore so much more of the local market including the treasure-filled auctions this way.

Other E-Commerce Platforms in Japan
What are other popular EC platforms in Japan besides Amazon Japan?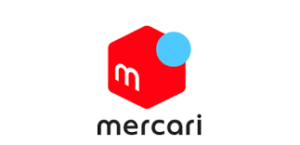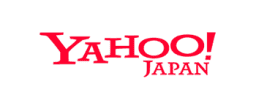 Rakuten is one of the top 2 in the market. All items are sold in the platform in the form of 'marketplace', meaning it's like a mall with many individual shops in it whereas Amazon is the shop itself (Amazon has been shifting gradually to marketplace as well).
Yahoo!JAPAN Auction, presented by Yahoo!Japan Shopping, is the

largest auction site in Japan

where you would find lots and lots of hidden treasures and good bargains.
Mercari has been gaining popularity for

hand-maid products

sold directly by the individual makers while it is also popular as yet another auction site.
ZOZO town is pushing their way through as another B2B platform with their clear focus on fashion.
Forwarding Companies Pick-Ups
There have been increasing numbers of forwarding companies in the recent years with trusted records. We have picked only 3 companies among them which we thought were most competitive and volatile.
TENSO JAPAN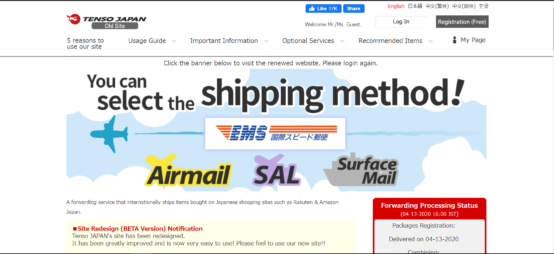 EMS shipping fees 5 % off! (only in Tenso Japan)
Forwarding handling fees on a flat rate of 150 JPY! (most competitive of all)
Combined shipping starts from 300 JPY with additional 150 JPY per each conversion
Storage service up to 6 months

Not applicable for heavy items

(e.x. above 30 kg)

Not applicable for small packet shipping method

(cheaper for below 2 kg)
For Yahoo Auction, use Auction Bidding Proxy Service
Recommended for items 2 to 30 kg.
PACKAGE FORWARD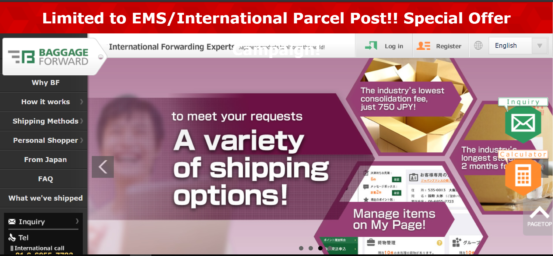 Handling fees for 420 JPY up to 0.5kg / 680 JPY up to 1 kg  / 960 JPY up to 3 kg

Combined shipping on a flat rate of 750 JPY
Storage Service up to 2 months for free

Wide range of shipping methods including DHL, UPS, small packet 

shipping method

(cheaper than EMS / for below 2 kg)

Applicable for heave or large items

  (e.g. above 30kg)
For Yahoo Auction, use Auction Bidding Representative Service
Recommended for small packages below 2 kg, or large items above 30 kg (or long sided).
BUYEE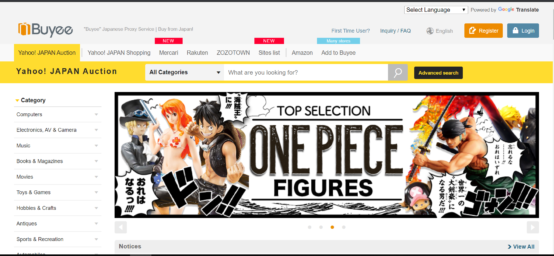 Forwarding handling fees on a flat rate of 300 JPY up to 3 kg

Wide range of shipping methods including DHL, UPS, small packet 

shipping method

(cheaper option for below 2 kg)

Applicable for heave or large items

  (e.g. above 30kg)
Combined shipping stars from 500 JPY
In Buyee, you will shop everything within Buyee platform where the affiliated E-Com sites are incorporated (available for Yahoo!JAPAN Auction, Yahoo!JAPAN shopping, Mericari, Rakuten, Amazon, ZOZOTOWN). Items displayed are all the same as in the original websites. Buyee seems to have gone ahead of others for proxy services.
Other Tips
When choosing other agencies here is some of the check list below when choosing one depending on what services you prioritize.
Does it ship heavy/large items (e.g. above 30 kg)?
Do they provide small packet method for items below 2 kg?
How long do they store the products in their warehouse?
Do they discard unwanted brochures or ads?
Do they discard unwanted boxes?
Do they send you a picture of the product before shipping?
Available for shipping in the name of a stuff? (enables import tax exempt)
Purchasing Proxy Service
Moreover, many also offer purchasing proxy services where they represent you even in the purchasing step with additional fees.
Bidding Proxy Service
While the regular E-Com shopping lets basically anyone from around the world to shop almost instantly, there is a tricky step when it comes to auction sites. For instance, Mercari asks you for verification through a "domestic phone number" upon registration. Likewise, Yahoo!JAPAN Auction requires a verification through a "domestic phone number" or "address in Japan" to have full access. Even if you happen to acquire the ID, you may face a language barrier when having to communicate with the sellers, or problems with the limited payment methods.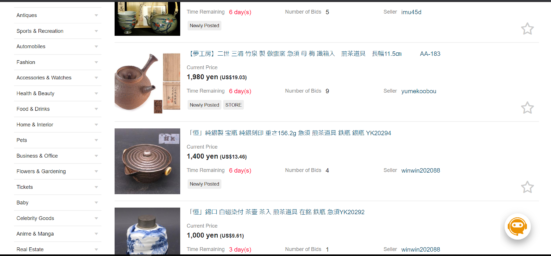 Buyee has the official partnership with Yahoo Auction and it also offers Mericari in English whiten their platform

. (a flat rate of 300 JPY per order for the bidding proxy service and another 200 JPY per purchase for payment proxy service in case for Mercari and Yahoo!JAPAN auction).
Tenso Japan has bidding proxy service for Yahoo!JAPAN Auction.
Package forward also offers wide proxy services
Shipping from Individual Shops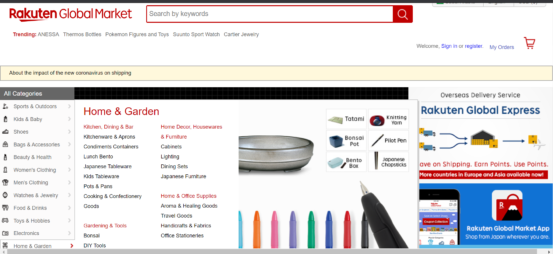 This leaves another option and that is to have the shop itself ship the product directly to you. Shops who are confident in handling the global business don't necessarily have to have the support from large E-Com platforms and would take it on their own. They probably won't charge any extra than the shipping cost itself. Those shops would have their own websites waiting for access from around the world, or they might exist as one of the marketplace sellers within Amazon or Rakuten platforms. Rakuten platforms also supports multiple languages like Amazon Japan.
Summary
As an entry point, it's best to shop at Amazon Japan for its speed, competitive price, reliability and familiarity. However, the amount of products you find in Amazon Japan is just the tip of an iceberg and the local market has so much more to offer you. Go to other E-Com sites, explore auction sites or don't give up on a specific product with no available international shipping. Almost everything is attainable with the help of a forwarding company. Or explore until you discover trust worthy global merchants in Japan who ships overseas on their own.
Happy shopping Japan!!