It is time to have it in Saudi Arabia – More online shopping!
Online shopping has been around for over 10 years in Saudi Arabia thanks to Souq.com initiating it. However the scale was still much smaller compared to other "digitalized" countries. And now it is expected to grow stronger – meaning more selection, more reliability and convenience thanks to the rising competition.
It's time for us to keep a close eye on what they have got to offer so we, as customers, benefit the most out of it. To begin with in this post, I am going to clarify what kinds of platforms are available in Saudi Arabia.
Souq.com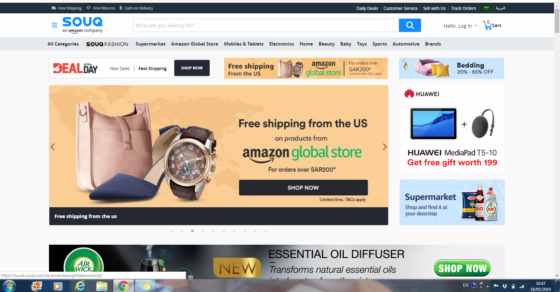 Souq.com was founded in 2005 in UAE initially operating as an auction site, then later on in 2011 it evolved into an e-commerce platform with electronic products as its core offer. Furthermore, it was acquired by Amazon in 2017 for $580 million and in Dubai the name was changed to Amazon.ae in May 2019 to act officially as a subsidiary to Amazon.
Payment methods include:
Credit Cards (Visa and MasterCard), Mada Debit Card – Installment option available supported by PAYFORT
Cash on Delivery (COD) for flat rate of 17 SR (For amazon global store, available only from 1,000 SR purchase)
SADAD / QITAF / MOBILY NEQATY
Free shipping for total purchase above 200 SR both for domestic and international (separate count) shopping for items labeled as free shipping eligible.
15 days return policy (from date of delivery)
Noon.com
Noon.com was founded in late 2017 by Dubai Emmar Mall to counter the acquisition of Souq.com by Amazon. They bought Jadopado (another market platform) and Nemshi (fashion platform), and has stakes or agreements with big players such as Aramex, Saudi Arabia's Public Investment Fund (PIF), Alshaya, eXtra, Yoox Net-a-Porter (world's leading high-end Italian fashion retailer) and eBay with probably more partnerships to come. They are also looking at connecting the Middle East market to China!
Payment methods includes:
Credit Cards (Visa, MasterCard, and American Express), Mada Debit Crard – Installment available with associated banks for purchase above 1,000 SR with no interests.
Cash on Delivery (COD) for flat rate of 17 SR.
Apple Pay (for selected countries on the noon app)
Free shipping for total purchase above 200 SR (They have an in-house carrier which makes their logistics process more reliable.)
15 days return policy (from date of delivery)
Mumzworld.com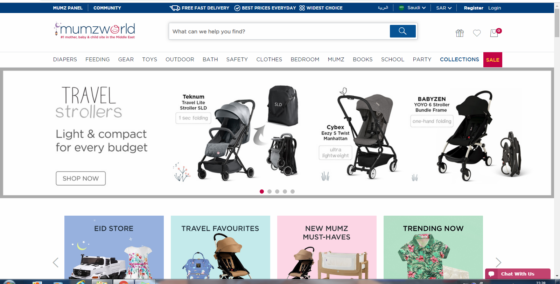 Mumzworld was launched in UAE in 2011 by an Arabic mum and features all things mother, baby and child in the middle east and North Africa. The interface is practically thought through for mums and it is easy to navigate depending on different kinds of needs. In 2017, Saudi specific site was introduced and is featuring over 120,000 products, 20,000 of which are exclusive to Saudi Site.
Best price Guranteed – You can report if you see a product in GCC areas cheaper than Mumzworld
Free shipping for total purchase above 100 SR
Cash on Delivery available for flat rate of 30 SR
7 days of its delivery for returning
Jarir.com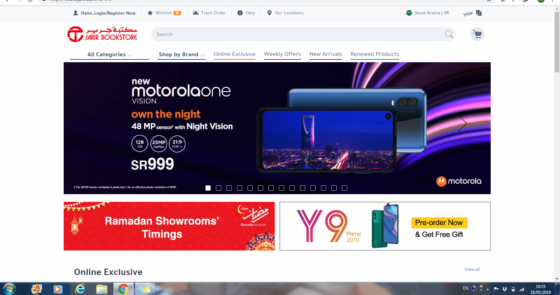 Jarir bookstore was founded in 1979 in Riyadh as a brick-and-mortar supplier of books, office supplies, and educational aids. Later, they evolved into dealing consumer electronics as well and currently have 46 physical stores in total across Saudi Arabia and some others in GCC countries. They opened their official eCommerce portal in 2016.
Cash on Delivery available for flat rate of 15 SR
Free shipping for total purchase above 200 SR (30 SR for under 200 SR)

2 years warranty

for all electronic devices except for accessories and peripherals. Bookstore provides a free of charge delivery service of your devices to service providers on some products (In-Warranty devices only).
7 days return policy and

3 days exchange policy (from date of delivery)
Extra.com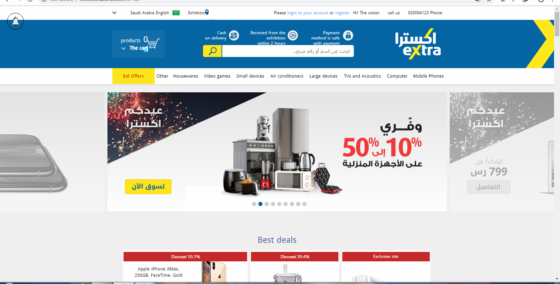 Extra is established in Saudi Arabia in 2003 as a subsidiary of United Electronics Company (UEC) for consumer electronics and home appliances including televisions, audio systems, computers, mobile phones and IT communications, cameras, home appliances and personal care products. They have 35 physical stores across Saudi Arabia and 1 store in both Bahrain and Oman.
Free shipping for total purchase above 199 SR

(30 SR for under 199SR).

Cash on Delivery available for flat rate of 25 SR

2 years warranty

14 days return policy (delivery),

7 days for store purchases
X-cite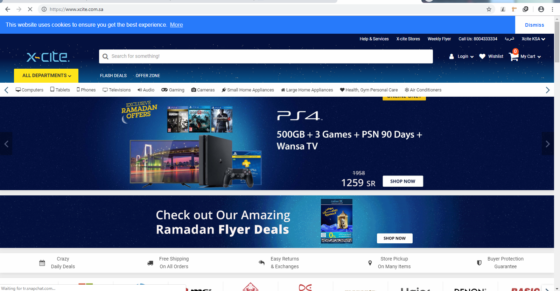 X-cite by Alghanim Electronics (part of Alghanim Industries) is an electronics store currently based in Kuwait and have launched their e-commerce portal in December 2011. They opened their first store in Saudi Arabia in 2015 and currently have 4 physical stores across Saudi and 20 in Kuwait.
FREE shipping for all items

7 days return policy (from date of delivery)
Cash on Delivery may not be available yet (TBA)
Opensouq.com
Opensouq.com is a fast growing buy&sell platform in the Middle East & North Africa region (MENA) facilitating the transaction between buyers and sellers. Founded in 2008 in Libya, It provides a wide variety of goods and services, including cars (automotive), real estate, electronics and much more.
Unlike other platforms, there is no intermediates between the sellers and buyers and the transactions must be made directly between both parties.
Carrefour – Wadi.com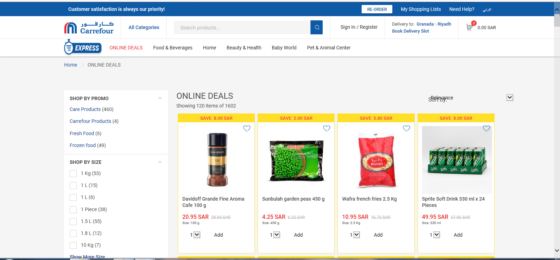 Carffefour is a French hypermarket chain owned and managed by UAE's conglomerate Majid Al Futtaim and has been around in the MENA region since 1995. They started its operation in Saudi Arabia in 2004 and currently operates across 15 countries and is under further expansion. In 2018, they integrated with Saudi grocery platform Wadi.com, which was founded in 2015 by a Pakistani women, for a strategic partnership.
Free shipping for total purchase above 100 SR

(15 SR for under 100 SR)
Cash on Delivery is available for flat rate of 10 SR
25 SAR for all purchases for valet service
7 days return policy and 3 days exchange policy for electronics
Danube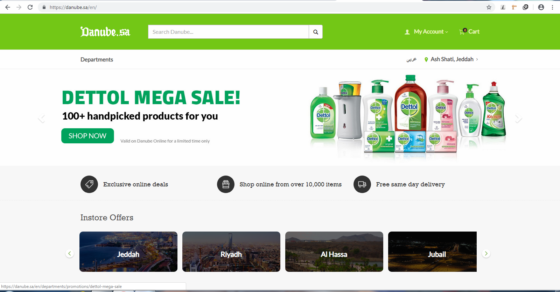 Danube is a Saudi supermarket and hypermarket chain opened in 1987 owned and operated by Bin Dawood group. They launched their online platform in 2017.
Free delivery

with minimum order of 75 SAR for first order and 90 SAR for following orders
Cash on Delivery for free
2 days return & exchange policy
Jamalon.com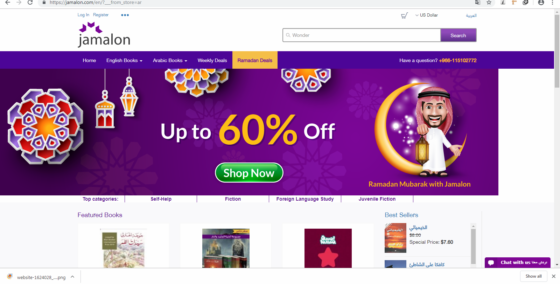 Jamalon is an online bookstore launched in 2010 in Jordan and ships to other countries in the middle east. Currently it delivers over 10 million publications in Arabic and English.
Free shipping for total purchase above 20 dollars ( 10 dollars otherwise)
Cash on Delivery is available for flat rate of 7.5 dollar
Summary
That was the quick listing of online platforms now available in Saudi Arabia. Have you tried them all already? Were you happy with their services and ready to become a loyal customers to some?
For the comparison between the largest competitors Souq.com and Noon.com check out this comprehensive article : Souq vs. Noon: the ultimate showdown Souq.com is still dominant with a 12-year head start, but Noon.com seems to do well providing overall better customer experience.
Besides those that are covered in this article, here are some more platforms popular in Saudi Arabia that is worth checking out;
Cobone – Launched in 2010 in Dubai, Middle East's biggest 'daily deals', or group buying.
AliExpress – Chinese marketplace which is a retail branch to the world famous Alibaba group.
MarkaVip.com – Established in 2010 based in Jordan.
Haraj.com – Open platform for buyers & sellers in Arabic
Will keep exploring! And shopping!!