Toy Town has several larger rides that swings or flies high or shakes including a proper roller coaster which is pretty thrilling but possible even for small children. Perfect for roller coaster debut. In between those big rides there are many smaller rides in the form of animals, cars or bikes and such. They also have a play gym of the same kind which you would see in Snowy Forest for example. My kids spent a good long time in that section last time and enjoyed it a lot.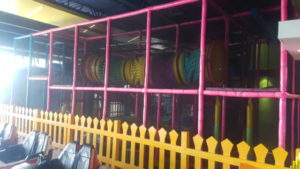 Besides the play gym, there is the go-cart section as well. Moreover, you will find a small bowling alley and a 9D (!?) cinema as well. A lot of things are placed nicely in a compact surface area compared to places like Sparky's and it is also gated so the guests with small children might feel more comfortable. They also have some electronic games that you would find in places like Chuck.E Cheese's. Oh and there is even a barbershop for children.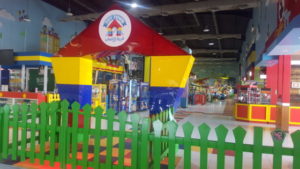 General Info 
In Stars Avenue on the King Rd. Top floor above Manuel. 
Pay for each ride / game on rechargeable cards. Get a package offer to save up some money.
Timings: 4:30 –
Phone: 0567847989
Party Package 
What's the activity? : Electronic rides & games / Play gym / Go-Cart / Small bowling alley / 9D cinema etc for 2 hours 
How much? : Sunday – Wednesday 80 SR per child / Thursday – Saturday 105 SR per child
Minimum number?: 25 children
What else is included in the price?: Private p

arty room/ Balloon decoration / Meals for kids from burger king / Speaker & Music /  Invitation cards / Unlimited play card for 2 hours for each child

Food and beverage from outside is allowed
More decorations are allowed on your own expense
Check other options here: Birthday Party Venues for Kids in Jeddah 
Happy birthday in advance to all the precious little people! Happy long-cherished memories!