Sloans is an ice cream shop born in Florida in 1999 and opened up in Jeddah just recently as of 2019. Outside of America, It is only found in Kuwait and Saudi Arabia. There are 2 branches in Kuwait and 1 branch in Riyadh, while we have 3 branches in Jeddah! So it is kind of a novelty to have a party there. 
They offer ice creams with a lot of different flavors, sundaes, shakes, smoothies, ice cream sodas, bakery, chocolates and candies. The decor is also very noticeable with all pink walls and brings fantasy-like atmosphere. They also sometimes set up a painting corner for children. They also have a toy corner to make the kids feel extra spoiled.
The 3 shops in Jeddah are all situated in big shopping malls including Red Sea Mall, Mall of Arabia and Aziz Mall which is convenient for guests when invited to birthday parties.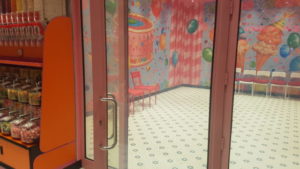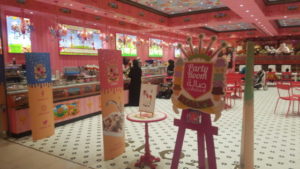 General
Locations: Red Sea Mall / Mall of Arabia / Aziz Mall

Timings: Saturday – Thursday 9:30 AM -12:30 PM / Friday 1 PM – 1 AM

Phone: Red Sea Mall 0532597400 / Mall of Arabia 0532599447 / Aziz Mall 
Party package
What's the activity? : Kitchen sink sundae / celebration at the party room with a party host  / Educational & recreational games (building station in the party room)
How much? : 1,350 SR for up to 10 children, 1,750 SR for 11-15 children, 2,150 SR for 16-20 children
2 hours duration
What else is included in the price? :

Private party room for 2 hours / Party room decoration / Catered pizza / Water&Soft drinks&Juices / Party gifts

Services on additional cost : Face painting with clown and balloons for 650 SR / Coffee and tea etc for adults
Food and beverage from outside is allowed
Check out other options here: Birthday Party Venues for Kids in Jeddah 
Happy birthday in advance to all the precious little people! Happy long-cherished memories!