Stationary fantasies has all activities in one! Cooking, Art&Craft, Sandpit, Climbing, Shooting balls, Carpenter Works and T-shirt painting are available in sectioned room for each spread out in the 2nd and the 3rd floors. If you visit there privately you would only pay for the activities your children participate in. For the party package, Cooking, Art&Craft, Sandpit, Climbing and Shooting balls are offered. It is a rare (or the only..?) option in Jeddah where you can have both physical activities and hands-on activities all in one for birthday parties. 
Not for the parties but there is Water Park attached to this building and you can have the view of it from these floors, which can be an additional entertainment for children.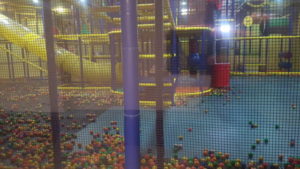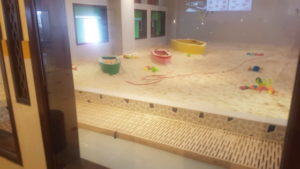 General Information
Location: On Prince Sultan Rd near GNP hospital
The ground floor is for home decor shop, the 1st floor is for stationary shop, the 2nd and 3rd floors for activities. Each activity is given its own room. 
Prices: Carpenter 68 SR / Sand Pit 12 SR / T-shirt painting 35 SR / Art Works 30 SR / Chocolate Banana Pie making 30 SR / Shooting Gallery 16 SR / Climbing 16 SR each for about 30 minutes
Timings: 4:30 PM – 10:30 PM
Phone: 0126827730
Party Package
What's the activity? : Cooking (Banana&Chocolate Pie) / Art&Craft / Sand Pit / Climbing / Shooting Gallery for about 1 hour and 20 minutes all together. 

How much? : 2625 SR up to 30 children. 70 SR for each additional child. 

What's included in the price? : Private party room / Party host / Meals for children (pizza or nuggets & french fries or burgers) / Plates & Napkins & Forks

Decoration in the party room is on your own expense
There is a cafe counter to serve adults guests on your own expense
Food and beverage from outside is allowed (to be checked)
Check other options here: Birthday Party Venues for Kids in Jeddah 
Happy birthday in advance to all the precious little people! Happy long-cherished memories!