This list of children's play areas in Jeddah part 2 features on the restaurants with playrooms / corners large enough to keep them busy for an hour or more while parents can also enjoy uninterpreted conversations. Please check Children's Play Areas in Jeddah Part 1 for INDOOR play areas (not restaurants). Please also visit:  Children's Play Areas in Jeddah Part 3 – OUTDOOR (coming soon) / Children's Play Areas in Jeddah Part 4 – ACTIVITIES (coming soon) / Children's Play Area in Jeddah Part 5 – DAY TRIP (coming soon). 
Chicken Republic


Prince Sultan Rd in Rawdah district  near Sari St junction 
Sunday – Thursday: 1PM-12AM
Friday – Saturday: 1PM-1AM
Chicken republic is a fairly new Chicken joint with 2 floors. Upstairs at the back is the play area. It is enclosed so you can leave your kids in there feeling assured that they wont run off somewhere. They can go in / out freely so you can remain seated if your kids are old enough to take care of themselves. There are tables besides the play area and you can keep them in your sight through the glass windows. 
Cool De Sac
Prince Sultan Rd in As Salamah district near Sari St junction 
Cool De Sac is an American restaurant with a large play area now on soft opening. Can't wait for the grand opening! 
Al Qalzam


Al Qalzam restaurant sits by the sea in Obhur and offers tasty seafood cuisines. There is an indoor seating area and an outdoor one. We love the outdoor seating area where you can find tables by the sea and has the kids playroom in view. The seating area itself is also spacious enough for the kids to run around a little while you have them in your sight. I didn't get the best picture of the playroom but it's bigger than it may seem and our kids enjoy a good two hours or so going in and out while we have a relaxed chat with our friends over delicious grilled fish. Fish watching is also an extra fun for the kids and the breeze from the sea in the nighttime is super refreshing.  
Hot Stones
Daily 1:00PM – 12:30AM
In Zahara district behind Shatee Souq
Hot Stones is a casual Italian restaurant with 2 floors with a play area upstairs. Tables are available right beside it. They also have a separate party room available for birthday parties.
Belajio Resort 


North Cornish near Red Sea Mall
Belajio Resort is a complex of restaurants offering different types of cuisine with both indoor and outdoor seating areas. 
Wave Restaurant: Seafood and Turkish Cuisine

Dar Al Qamar: Lebanese Italian and Indian Cuisine

Tea Garden: International Food

Cristal & Layalina Halls
They provide one large outdoor play area as a resort all together. Several play requirements, inflatables, mini football pitch, a stage for show and more. It is enclosed and there is a monitor at the entrance. Playground entrance fees required. The kids get paper bracelets allowing them to go in and out of the playground. By far the largest play area among from the list in this post. However, this is not attached to the restaurants and you will probably be taking a table a bit away from this area. 
Apple Bees


Apple Bees has 7 branches in Jeddah – Rawdah, Tahalia, Khalidiya, Andaluz and Red Sea Mall, Mall of Arabia and Salama Mall. The one in the picture is in Rawdah branch near Sari St junction next to Chicken Republic. Most probably each branch has a play area apart from the ones in shopping malls. To be checked soon, 
Chilis
Chilis has 2 branches in Jeddah, one in Roshan Mall and another in al Andalus district on Palestine St. In the Andalus branch, they have indoor / outdoor seating areas and the play area is in the outdoor section. Pictures will follow soon but the play equipment is quite large and the area is also spacious enough for the kids to run around. However, I doubt there is a play area in the branch in Roshan Mall.  
MacDonalds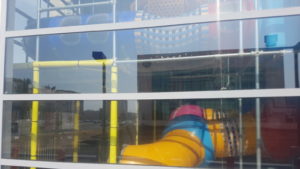 Yes, of course Macdonalds would be in this list. Their play areas are actually quite dynamic including tunnels and long tube slides. Perfect for a quick visit to seam off some energy. 
Al Tazaj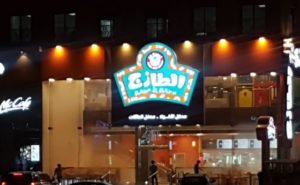 Al Tazaj is an arabic version of chicken fast food junction. There are 20 branches in Jeddah and they host dynamic play areas similar to the ones in Maddonalds. 
Little Caesars Pizza! Pizza!
TBA
Shrimp Zone 


Seafood restaurant with a new concept of eating everything with your hands. Given gloves, everyone heartily bites into the prawns and calamari. The simple metallic tube slide attached along the stairs caught the eyes of kids the second when we arrived and they kept themselves busy going up and down. 
Steak House