This summer, given more home time, isn't it a great time to introduce a "game night" family tradition? An excellent package with benefits for kids – Challenge, planning, strategic thinking and all the calculations involved – when it's presented as a form of games, they absolutely love it! 
The ones selected here are THE classic ones that will stay a long time in your family for years to come as your children grow and can strengthen family bonds. Games listed here are all in ENGLISH and generally suitable for ages 7 and up. However, take the age recommendations as reference only – our 5.5 year old enjoys some of them already (and actually beats us!) Or, look at Junior versions for kids with ages 5 and up or possibly younger.
The numbers of players, playtime and minimum age mentioned on this list are referenced from BoardGameGeek.com.
Platforms and Shipping Cost
I am going to list below 4 platforms available in KSA. Find out more about the products on the links to their pages. Links are inactive when it's not available on that platform.
Shipping Cost (In case of shipping to Jeddah):
Amazon.sa – Standard shipping 12 SR /

Free above 200 SR

purchase for standard shipping / Same day delivery 24 SR / Next  day delivery 18 SR  detail
Noon.com – 12 SR / Free above 200 SR purchase from express items (Express items are already in their warehouse thus quick delivery)
Jarir.com – 31.5 SR  /

Free above 200 SR

purchase detail
Mumzworld.com –  0-5 kg 55 SR / 5-30 kg 100 SR  detail  (Free above 100 AED purchase in UAE)
Be mindful of Amazon's 2 different shipping methods. Some are handled by third-party vendors and others handled by Amazon. If handled by Amazon, you will notice a communication written "fulfilled by Amazon". In this case they take care of the shipping and packing, as well as the returns on behalf of the vendors.It is more reliable choice especially if the vendor is not well known.
In this post, items with Amazon fulfillment are preferred for the links whenever it's available. If not, I try to choose the items with clear descriptions (title should include the brand's name) and clear images. When you are purchasing from a third-party seller directly, make sure to do some of your own research on them. Same thing goes for Noon.com.
MONOPOLY
Roll the dice and aim to own the properties to collect rent from other players. Build houses or hotels for higher rent, or strike negotiations with other players to optimize your asset. You lose if bankrupt. Who survives until the end with most money?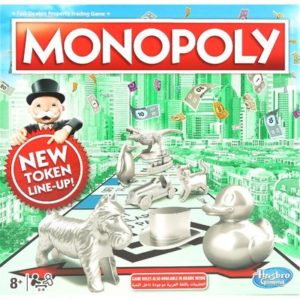 Hasbro Gaming – Monopoly Classic Game
Product dimensions: 5.3 x 26.9 x 27 cm. Weight: 830 g. Latest line-up of 8 tokens.
2-8 players / Age 8 + / 60-180 mins
Also check MONOPOLY DEAL (card version) and MONOPOLY JUNIOR ( Age 5). Or upgraded editions for extra fun- Ultimate Banking, Empire theme, Dubai theme, Millennial theme and more.
If your child is around 5 years old, I would suggest you skip the junior version and go straight to the classic one. The card version (Monopoly Deal) is easier for younger kids and it takes less time to play a round. Nice to have both the board game and the cards.
SCRABBLE
A wonderful classic word game. Use your letters to build crosswords and use bonus spaces to add to your score. Make the highest-scoring words you possibly can with the tiles you are dealt by linking them on the game board with other words already in place.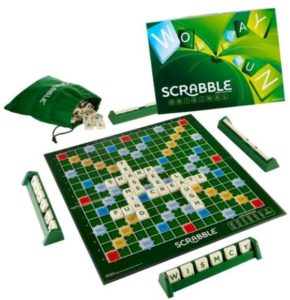 Mattel Games – Scrabble Original English
Package dimension: 26.5 x 36.5 x 4.5 cm Wight: 640 g. 
2-4 players / Age 10 + /  90 mins
Also check SCRABBLE JUNIOR (age 5 +) which comes with a two-sided board – words already listed on one side and regular on the other side. And SCRABBLE DELUXE for quality such as raised grid to eliminate the stress of sliding litters and rotating game board. Many other editions – electronic, retro, leather, extra tiles, nostalgia, with storage, fold-up and mobile, are not very available in the KSA online platforms.
How perfect for the little linguists! Personally, deluxe versions with raised grids and rotating board really sound appealing.
GAME OF LIFE
This game attempts to mirror life events many people go through from going to college, raising a family, buying a home, working and retiring. The one with most assets at the end of the game wins, assets are earned primarily by working. Simply roll the dice, advance the steps and life unfolds depending on where you land on.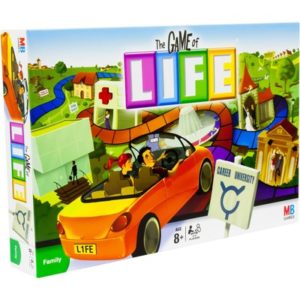 Hasbro MB The Game of Life: Fame Simulation Game
Package dimension: 6.5 x 40 x 26 cm  Wight: 900 g
2- 6 players / Age 8 + /  60 mins
Check on Amazon.sa

Check on Noon.com

Check on Mumzworld.com
Also check GAME OF LIFE JUNIOR (Age 5 +). Upgraded versions exist but not available in the KSA online platforms e.g. Electronic banking, Extreme reality, Fame theme, Rock star theme.
I used to play this game all night when my cousins came over, and what great times we had! Not much strategic thinking required, mostly based on luck however younger kids might need help for handling the bank.
CODENAMES
Word game played by 2 groups – teams of spies from opposing organisations. One member of each team will be the spymaster and the rest are field operatives. Only spymasters will know the codenames of all field agents (8-9 of them) and where they are. Spymasters will give the team clues to help them identify all other agents in the field. You can discuss what he/she meant openly. Complete your mission before the other side can while avoiding the deadly assassin.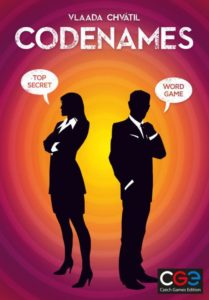 Czech Games – Codenames
Product Dimensions: 22.8 x 15.8 x 5 cm  / Weight: 590 g
2-8 players / Age 14 + /  15 mins
Check on Noon.com

Check on Jarir.com
Other versions Codenames Pictures pictures are printed on the cards instead of words. Codenames Duet you work all together rather than competing.
Can be enjoyed with a small group or a larger group. Great when in need of quick games. Players need to be old enough to understand multiple meanings of words.
CATAN
Catan (aka The settlement of Catan) is a resource gathering game, themed in the era of discoveries in an uncharted island named "Catan". Roll the dice and start collecting resources (cards) – wood, grain, brick, sheep, or stone to build up civilizations. The first one to gain 10 Victory points is the winner. There are three ways to get Victory points: 1. build settlements and cities. 2. build longest road or largest army out of all the players. 3. Development Cards. Be the dominant force on the island!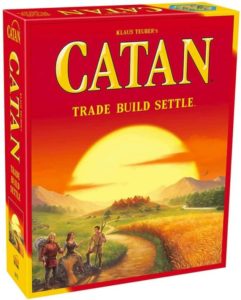 Catan Studio – Catan The Board Game 
Product dimension: 29.5 x 24 x 7.6 cm / Weight: 900 g
3-4 players / Age 10 + /  60 -120 mins 
Check on Mumzworld.com

Check on Jarir.com
There is "Expansions" – makes it playable with 5-6 players and there is 9 other "Editions" – with new game pieces and NEW SCENARIOS ex Studio Scenario  – not many available in the KSA online platforms.
Being similar to Monopoly in a way that you need to accumulate assets, however Catan is said to be much more strategic and is even seen as a stepping stone to a more advanced board game enthusiasm.
SEQUENCE
Play a card from your hand, and place a chip on a corresponding space on the game board – when you have five chips in a row (either up-down, sideways or diagonal), it's a Sequence. You pick another card from the deck on your each turn. The one who gets Sequence first wins. Simple rule as such with some wild cards. with special abilities.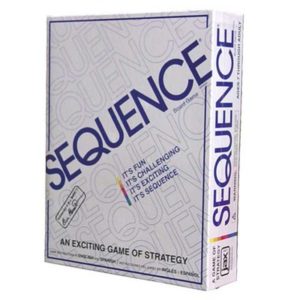 Jax – Sequence Strategy Game
Product dimension 20.5 x 5.5 x 26 cm / Weight: 200 g
2-12 players (groups of 2-3) / Age 7 + /  10-30 mins 
Also check SEQUENCE FOR KIDS (Age 3 +) and SEQUENCE DELUXE and larger version SEQUENCE JUMBO
Great combination of both board game and card game. Simple rules on the surface but with a few twists and turns. Quick playtime!
CLUE (CLUEDO)
The classic detective game! Move from room to room in a mansion to solve the mystery of: who did it, with what, and where? It is secretly placed in the confidential file in the middle of the board. Try to uncover what cards are in other players hands by making accusations. Once you know what cards the other players are holding, you will know what cards are in the secret file. Train your detective skills!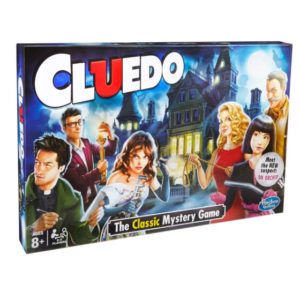 Hasbro gaming – Cluedo The Classic Mystery Game 
Product dimension: 4.1 x 40 x 26.7 cm / Weight: 975 g
2-6 players / Age 8 + /  40 mins
Check on Noon.com

Check on Mumzworld.com

Check on Jarir.com
Star Wars edition, Legend of Zelda edition are available in KSA.  Clue Junior (age 5 +) (link on Amazon US for reference) lets them discover who took the piece of cake!
Another detective game next to Codenames. Many reviews say people used to play this over and over as kids.
SORRY
Get all of your 4 pawns from the start into the Home space by travelling around the board. The first player to get all of their pawns Home wins. Draw a card from the deck and move your pawns following different instructions on each. Some instances will allow you to bump the opponents back home – say ops SORRY!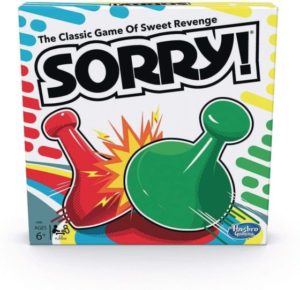 Hasbro Gaming – Sorry! Game
Product dimension: 4 x 26.6 x 26.6 cm / Weight: 450 g Only available on Amazon US via Amazon.sa
2-4 players / Age 6 + /  30 mins 
Check on Noon.com

Check on Mumzworld.com

Check on Jarir.com
Same basic principles as Ludo but more child friendly. And this modern day version of classic SORRY! is made even easier to play with younger kids with short attention spans.
TICKET TO RIDE
A cross country train adventure! Play matching cards to claim railway routes connecting cities throughout North America. The longer the routes, the more points they earn. Additional points by fulfilling your Destination Tickets when you connect two distant cities, or by building the longest continuous railway. The one with the highest score wins. Who can travel the most in the same given time?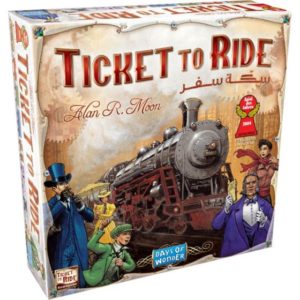 Product dimension 29.8 x 29.8 x 7.6 cm / Weight: 1.3 kg
2-5 players / Age 8 + /  30-60 mins 
Check on Noon.com

Check on Jarir.com
Exciting editions includes France & Old West, Japan & Italy, UK & Pennsylvania, Nederland, Africa! Europe version is available on Amazon.
Simple enough to be taught in a few minutes, and with some action and tension. Let the kids get ahead with geography. I'd love to collect all these editions around the world!
BLOKUS
Pick a color from green, blue, red and yellow. Each player gets 21 pieces in their color, and take turns to place their piece and occupy as much territory as possible on the board. The only rule? Place each piece with corners touching another piece of the same color. Super simple yet strategic, Blokus ("Block us") will challenge your spatial reasoning abilities.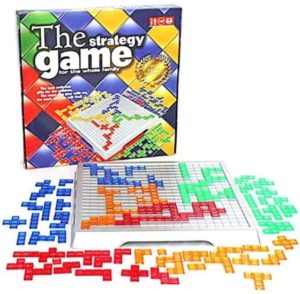 Mattel Games – Blokus Game
Product dimension: 26.6 x 3.8 x 26.6 cm / Weight: 540 g
2-4 players / Age 5 + /  20 mins 
Check on Noon.com

Check on Mumzworld.com

Check on Jarir.com
Sounds like Tetris in a way that it only has one simple rule yet requires strategic thinking. Need to plan many steps ahead.
PICTIONARY
A member from each group draws a sketch according to the card drawn, and the first team which got the correct answer advances on the board. First team to reach to finish square and guess the final sketch correctly wins.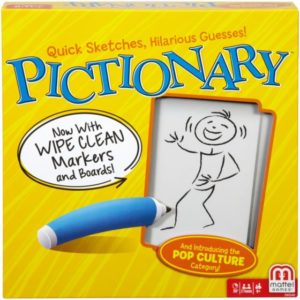 Mattel Games – Pictionary Board Game
Product dimensions: 5 x 24.7 x 26.6 cm / Weight: 560 g
2-10 players / Age 8 + /  30 mins
Check on Amazon.sa

Check on Noon.com

Check on Jarir.com
Probably the most "laughter" yielding game among the list here. Could be easily enjoyed in many age groups.
Others
We didn't include CHESS since it has many makers and it's hard to pick one product to recommend. Choosing the right chess set itself is a topic and is given many dedicated pages on the internet. Nevertheless, we had thought "No Stress Chess" (links to Amazon US) would be worth mentioning for kids who have never played chess before. It has several easy and helpful features for the newcomers. However, unfortunately, we found out that it is not available on any of the platforms mentioned on this post at the moment so you may have to find it elsewhere.
Also not included on the list but in case you still don't have Othello / Reversi (links to Amazon US via Amazon.sa) or UNO, be sure add it to your shelf soon!
Summary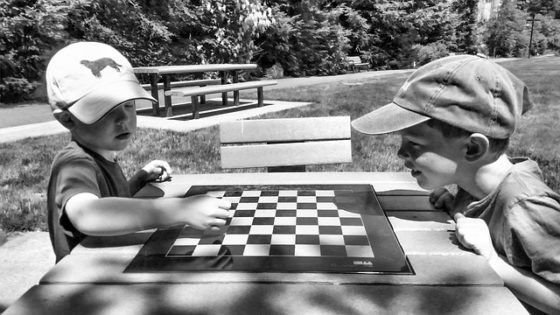 Really, I am personally convinced that getting all of these adds childhood memories for my kids. However, if you are not sure which ones to buy, you should consider which "category" you would like (word game? detective game? strategic game?) and how long the "playtime" is. The ones with long play times are Monopoly, Catan, Ticket to Ride, Game of Life. All these 4 except for Game of Life exercise your strategic thinking. Ones with short play times are Sequence, Blokus, Sorry.  Clue or Codenames for detective games and Scrabble for word game. Or Pictionary for great laughs.
In regards to platforms choice, Mumzworld do not offer free shipping to KSA which might be a deal breaker for some. On Amazon.sa and Noon.com you can find very competitive price, however you need to make sure that the vendor is trusted. I actually prefer Jarir the most since it comes directly from them, and also has physical stores for easier product confirmation, however their selection is limited. All in all, the choices are out there for you!