Snowy Forest is certainly one of the most popular and promised birthday venues for all ages. Similar concept to Billy Beez but I think the difference is that Snowy Forest has larger toddler section and fewer number of tube slides. Otherwise they have pretty much the same things as Slides/ Bazooka section / Trampoline / Football court and Maze-like play gyms.There is no wall climbing but has this athletic gym that requires harness belts.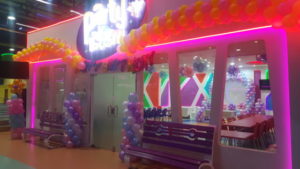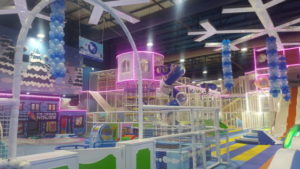 General Information
Red Sea Mall branch
Location: Red Sea Mall on king road and
Entry Fe

e: All week except for Tuesday  75 SR , Tuesday 40 SR, Free fo

r accompanying adults  (must wear snowy forest grip socks)

for all day pass

Timing: Sunday – Wednesday 10 AM – 11 PM / Thursday 10 AM – 11:30 PM / Friday 2 PM -11:30 PM
Compulsory snowy forest grip socks – 10 SR per pair (you can reuse them)

Tel: 0

552092003
Jamea Plaza 
TBA
Party package
What's the activity? : Many slides / Mountain climbing / Football / Trampoline / Bazookas / Athletic gym/ Toddler section etc
How much? : Saturday – Wednesday 75 SR per child, Thursday & Friday 100 SR per child
Minimum? : 20 children
What else is included in the package? :

Private party room /  Party room decorations / Meal & Juice for kids (Kentuckee or Hardie's) / Plates&Forks&Napkins /  / Speakers & Music / Invitations cards

Food and beverage from outside is allowed
There are also options to let them play at "Sparky's" for the same price or let them play at both "Sparky's" and "Snowy forest" for 100 SR per child for weekday and 125 SR per child for weekend. The same party room will be provided for each choice. In case you have never been there – Snowy Forest is situated at the corner of "Sparky's" . While "Sparky's" is a place for electronic rides and machines, Snowy Forest is a large indoor playground.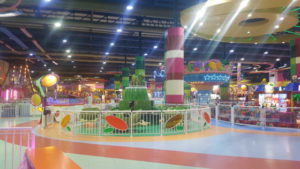 Check other options here: Birthday Party Venues for Kids in Jeddah 
Happy birthday in advance to all the precious little people! Happy long-cherished memories!